Official Press Release: 
Raleigh, Nc progressive deathcore shredders KROSIS have announced their first round of tour dates in support of their upcoming Unique Leader debut Solem Vatem which will hit stores on March 9th. "The Solem Vatem" tour will run from April 1st - 13th and see KROSIS hitting much of the East Coast and Midwest with support coming from Silent on Fifth Street and Terraform. 
KROSIS drummer Dan Cece commented on the tour, "It is an honor to be going out on the road with two awesome bands like Silent on Fifth Street and Terraform. We couldn't be prouder to be heading out in support of our new full-length album Solem Vatem with this tour package. We anticipate every stop being a blast and hope to see some familiar faces as well as some new ones. We've been waiting to hit the road again for a long time, and we're definitely looking forward to April!" 
KROSIS w/ Silent on Fifth Street and Terraform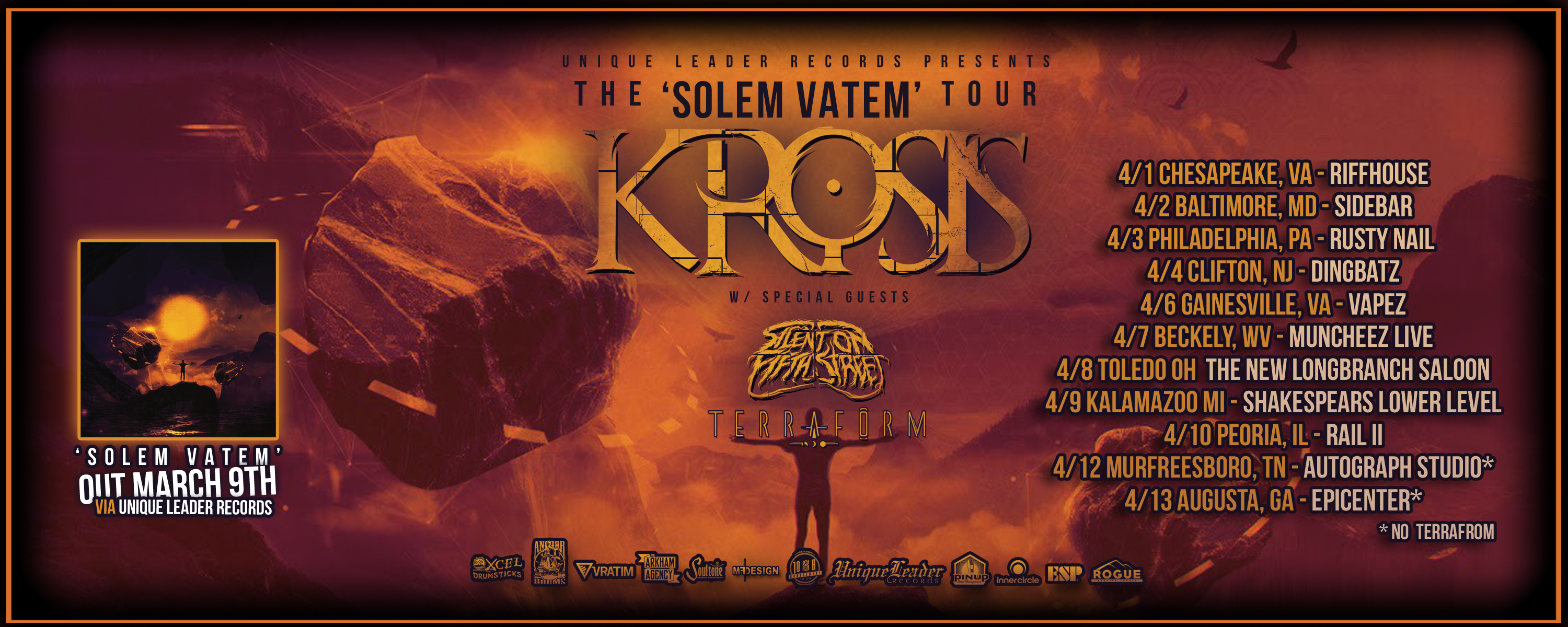 4/1 Chesapeake, Va @ Riffhouse 
4/2 Baltimore, Md @ Sidebar 
4/3 Philadelphia, Pa @ Rusty Nail 
4/4 Clifton, Nj @ Dingbatz 
4/6 Gainesville, Va @ Vapez 
4/7 Beckely, Wv @ Muncheez Live 
4/8 Toledo, OH @ The New Longbranch Saloon
4/9 Kalamazoo, MI @ Shakespears Lower Level
4/10 Bloomington, Il @ Rail II  
4/12 Murfreesboro, Tn @ Autograph Rehearsal Studio 
4/13 Augusta, Ga @ Epicenter 
Physical pre-order bundles for Solem Vatem are available HERE and digital pre-order bundles are available HERE.